Guide for Converting Your Boat to LED Lighting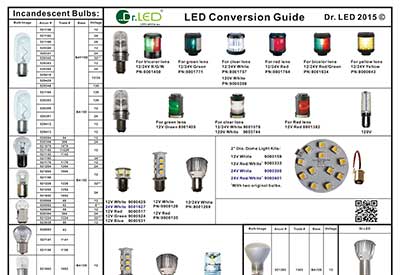 LED Lighting for Your Boat Made Easy
If you are thinking of converting  your boat to LED lighting , then the Seattle base company "DR. LED" has a marine LED bulb conversion.
selection guide, for converting incandescent to LED for interior and navigation lights, that are now available on iOS and Android devices.  
You can download the apps from www.DoctorLED.com. You can find LED bulbs from 1) Incandescent Bulb Images, 2) Ancor #, 3) Bulb Trade #, or 4) Navigation Lights."
 Download the pdf version of the LED Conversion Guide here.