Seasonings, Flavours of the Southern Gulf Islands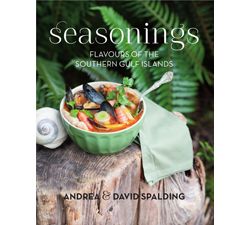 Seasonings, Flavours of the Southern Gulf Islands by Andrea & David Spalding (Harbour Publishing 2013, $29.95) 2012 was a year of feasting, sampling, collecting, interviewing and cooking for longtime Pender Island residents David and Andrea Spalding. They roamed extensively on Mayne, Salt Spring, Saturna, Galiano and the Penders, sniffing out delectable recipes, interviewing chefs and food gurus, tracking down lavender growers, sleuthing out cheese-makers, fishermen, coffee roasters and artisan bakers, trying out recipes and arranging all their discoveries in a very readable book. The result is way more than just a cookbook; it's a compendium of island life full of interesting characters, island anecdotes, and insider tips and tales. Armed with this book, skippers can become culinary experts, impress crew and guests with their local knowledge, and have a whole lot more fun visiting the islands.
Few islanders know more about the Gulf Islands than this couple, who between them have published more than 40 books. All skippers who cruise the Gulf Islands, foodies or not, should add this attractive book to their galleys.
Review By: Cherie Thiessen