Northwest Boat Travel Guide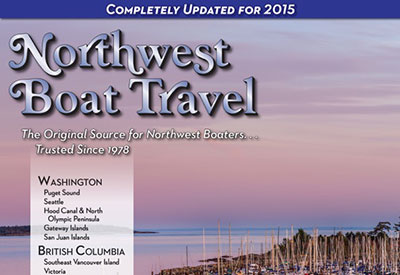 Dec 18, 2016
My copy of Northwest Boat Travel Guide just arrived. This time of the year is the perfect time for making plans for the 2017 boating season. The latest edition of this thorough and affordable cruising guide, now in its 39th year, features all colour photos, maps and diagrams. Northwest Boat Travel features over 2,700 ports-of-call, anchorages, bays, inlets, waterways, marine parks, marina and resort facilities, fuel docks, services and things to see and do along the coasts and islands of B.C., Washington and Southeast Alaska.
The key to any successful trip along the West Coast is planning. The weather and sea condition are constantly changing so as a safety factor I always have a plan "B", should I need to duck into a safe port. With my charts spread out on the table and my copy of the Northwest Boat Travel Guide close at hand I am ready to chart my courses. At every destination that I plotted on the chart I make a notation of the page number from the Guide that describes the location.
Throughout the winter month my crew and I will refer back to the Northwest Boat Travel Guide as we make plans for boating on the West Coast this coming summer. Can't wait!
For complete information about Northwest Boat Travel Guide go to: http://www.nwboat.com/about/

Princess Louisa Photo credit: © Ryan Van Veen Photography.
Bob Nicoll