White Rock Harbour Board Receives Three-year Recertification in Clean Marine BC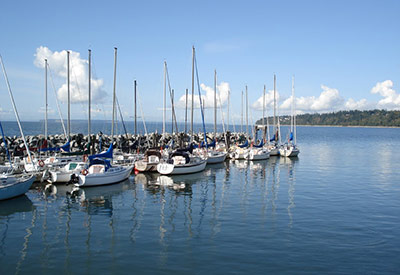 December 9, 2015
Eco-certification presented at city council meeting
Georgia Strait Alliance presented the White Rock Harbour Board with its three-year recertification in the Clean Marine BC program on November 23 at the city council meeting.
The White Rock Harbour Board holds a three-anchor rating, having achieved its original voluntary eco-certification in 2011. 
The program, which has regional counterparts in Ontario and Quebec, uses an independent audit to confirm commitment to environmental best practices by marinas, harbour authorities, boatyards and yacht clubs that improve the management and operation of their facilities in order to reduce negative impacts on our waters, including reducing or eliminating contaminants from entering our waters.
Specific measures include:
•        Eliminating the release of contaminants to the water column, both directly and indirectly;
•        Minimizing the release of pollutants to the atmosphere;
•        Avoiding contamination of the ground;
•        Adopting waste reduction, reuse and recycling strategies;
•        Optimizing energy and water conservation;
•        Promoting good environmental practices to all moorage members and contractors;
•        Abiding by and, where possible, exceeding the requirements of all relevant legislation.
•        Commitment to continual improvement of their facility.
"The White Rock Harbour Board is a valuable partner in our program as the breadth of its facilities means that greener procedures have a positive impact on the marine environment," says Christianne Wilhelmson, Executive Director of Georgia Strait Alliance.
"This recertification is significant because it demonstrates that, as boaters, we are committed to keeping our environment and its waters clean," says Gary Saunders, President of the White Rock Harbour Board. "The environmental piece is key to our facilities' operations and how we promote sustainable boating."
The White Rock Harbour Board joins a total of 21 yacht clubs, marinas, boatyards and harbour authority docks in flying the CMBC flag.