Discover Boating's Hands-On Skills Training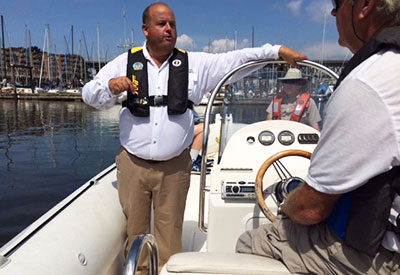 Nothing beats hands-on experience for improving your boating skills or learning new ones. This year's show features hands-on, on-the-water boating workshops at the Granville Island Floating Show. Discover Boating presents three different Hands-on Skills Training CLINICS for power boaters at the Vancouver International Boat Show, January 21 – 25, 2015. Delivered in partnership with professional trainers who have been educated in the Hands-On Skills Training program, our aim is to make boating more accessible, safe and enjoyable for everyone!
There's something for everyone — from absolute beginners to seasoned skippers! You'll learn from experts: All sessions are taught by skilled on-water trainers.
Each event is 60 minutes long and registration is free. Participation is limited to four persons per boat. These effective learning events will help develop skills that will last a lifetime and add significantly to your boating safety and enjoyment. Please note that to participate you must already have your PCOC (Pleasure Craft Operator Card). Remember: These courses have limited spaces available during the show, so be sure to register in advance to book your space. Participation is on a first-come, first-served basis; and at no charge, we expect spaces to fill up quickly!