2015 C. Thomas Clagett, Jr. Memorial Clinic and Regatta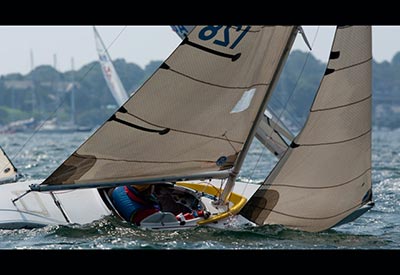 In a couple of weeks sailors from across the USA, Canada and the US Virgin Islands will be converging on Newport RI to take part in the 13th annual C. Thomas Clagett, Jr. Memorial Clinic and Regatta.  The Clagett, as it is commonly known, is a must do event on the disabled sailing calendar for North America.  Over the 12 years this event has been held, sailors from across the USA (19 states), Canada (4 Provinces), Israel, China, Ireland, Norway, Puerto Rico and St. Thomas VI have taken part in this world renowned event.
The entry list for this year has many familiar faces returning to learn from the best when they take part in the clinic portion of the event on Thursday June 25.  After a day spent with international coaches, led by newly appointed International Sailing Federation (ISAF) Disabled Sailing Committee Chairman Betsy Alison, the sailors will put this knowledge into action when they compete for three days of racing on Narragansett Bay.  Racing will again be run by returning Principal Race Officer, Ron Hopkins.   
Sarah Everhart Skeels, skipper of the SKUD 18, will return to take part in The Clagett from the Netherlands after taking part in the Delta Lloyd regatta.  "Every year I look forward to The Clagett and seeing many familiar faces and new ones joining the ever growing group of sailors who enjoy all that The Clagett has to offer adaptive sailors", said Skeels.
With only days to go, entries from Connecticut, Chicago, Florida, Massachusetts, New Jersey, Rhode Island, Canada and the US Virgin Islands have been received across all three classes of boats hosted at The Clagett, the single handed 2.4mR, the double handed SKUD 18 and the three person Sonar. 
"We are looking forward to another fantastic event this year.  For the sailors to be able to race on the same race course area used by the Volvo Ocean Race during its recent stopover in Newport, epitomizes what The Clagett stands for.  Our mission is to give sailors the best available coaching, race management and location to assist them to optimize their potential", commented Clagett co-founder and President, Judy McLennan.