The goat in my boat – an open mind when it comes to alternate energy sources.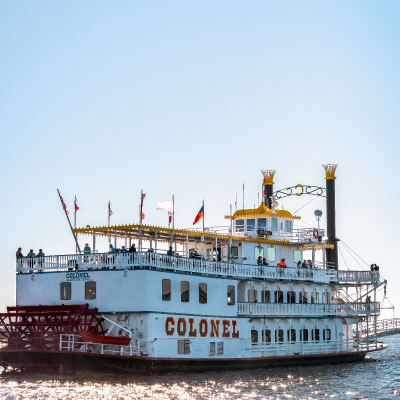 When you look at the classic paddle-wheeler, we can see that in years gone by the marine community better understood alternate fuels and green energy.
By John Morris
When you look at the classic paddle-wheeler, we can see that in years gone by the marine community better understood alternate fuels and green energy. Just like the paddlewheel powering a Victorian gristmill, the water turns the paddle wheel, which in turn drives the power plant of the boat and pushes the boat forward. Brilliant.
I see the skeptics among you already putting your hand up and bellowing about Newton's Third Law. Sure, in your narrowly defined world, a boat cannot use water for fuel even though it is sitting in limitless free supply. C'mon people – think outside the envelope for even a minute or two; that kind of undernourished imagination is what got us to here in the first place, driving up the river with that 30-year-old sooty Evinrude watching the climate thermometer rise. We can do better!
Solar
Alas, you've rejected the paddlewheel concept, but everyone is on board with solar power. Free energy from the sun. A 400 kW solar set up is significantly larger than the boathouse roof but with some ingenuity can be fitted onto your 28' runabout or medium sailing sloop. That rig can power up a storage battery weighing less than 850 kg and taking up less than three cubic metres of interior space. While you won't have enough cockpit room to take guests aboard, you will have the great feeling that comes with reducing our nation's carb footprint.
Hydrogen
Before you even start with the safety spiel and showing us pictures of the Hindenburg bursting into flames, consider this important fact – hydrogen can be produced from ordinary water. And water is what we have in abundance as we pointed out earlier in this article amid your noisy rejection of our first plan. Converting ordinary water into hydrogen only requires electricity and while the solar generation approach may not work for everyone, don't be so quick to dismiss the extra-long extension cord on page 104 of the Canadian Tire catalogue. After all, how far from your dock do you actually go on a typical weekend cruise? Just shorten the trip a smidge and the problem is solved.
Methane
As we know, farm animals produce extensive methane and green thinkers see the reduction in animal consumption as a step to reduced emissions. So, you can give a goat (or a heifer) a wonderful new opportunity for a healthy outdoor lifestyle aboard your boat. Wearing one of Mustang's new Goating Life PFDs the goat is easy to please. You simply feed him sandwiches, or strudel, or whatever you have aboard (it's well known they eat anything) and he will get to work. The methane produced may interfere with the fresh scent of the sea, but it will power your engine without consuming even a litre of fossil fuel.
Wind energy
Here's a long shot – the wind is free. Simply put a mast on the boat, add some sails and the boat will go anywhere you want at no cost. What a great idea – I'm surprised we hadn't thought of it before. Hold on there, please… I'm getting a message from the control room. I am told that it has been tried before; free sail power has driven boats for centuries, in fact. Well isn't that the cat's pyjamas!