Destinations: Peachland Yacht Club on Okanagan Lake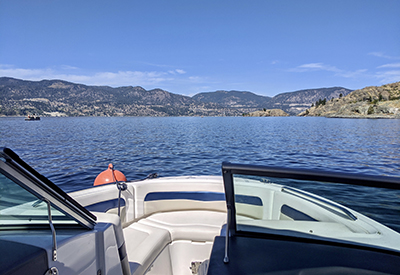 Peachland Yacht Club (PYC) is located on Okanagan Lake in British Columbia and has a history dating back to 1959. PYC is in the heart of the Okanagan Valley in the town of Peachland, BC.
July 12, 2023
By Allegra Smith-Herriott
Mooring balls maintained by local yacht clubs are scattered around the lake for recreational boaters to use. Rattlesnake Island is pictured just ahead.
There are endless amazing hiking trails all around the region which turn into ski touring in the winter. Camping is also very popular. If you're lucky, you may run into some big horn sheep in Okanagan Provincial Park. And not to mention the Okanagan Valley is one of Canada's top producing wine regions. There are several wineries and restaurants with docks to accommodate boaters.
Rattlesnake Island is one of the only islands on the lake situated just across the water from PYC. Legend has it that the island is the home of Ogopogo, the sea monster of Okanagan Lake! Official charts even show Ogopogo's home located near Reluctant Dragon Cove. A sinister sea monster or a sacred spirit of the lake, you'll have to pay a visit to find out yourself.
Photo Credit: Gord Herridge / A view from Peachland looking across the lake at Squally Point and south towards Penticton
From a pleasure boating perspective, Okanagan Lake is a fantastic place to boat given the reciprocity between the main towns' yacht clubs spread out along the waterway. Other yacht clubs in the area include: Vernon Yacht Club, Kelowna Yacht Club, West Kelowna Yacht Club, Summerland Yacht Club, Penticton Yacht Club and Naramata Yacht Club. There are many other marinas and docking and mooring facilities as well.
PYC has several great events throughout the year. The spring brings the season opener which welcomes all new members. Throughout the summer there are many formal and informal BBQ and get together nights on the docks. Their major event is the Commodore's Ball at the end of the boating season which is held on September 23rd this year. This is the highlight of the social scene at PYC and other commodores from yacht clubs in the Valley are invited.
Member fun at the Commodore's Ball in 2022
There's a great deal of pride in the current membership at PYC. Members have a goal to promote safe and responsible boating. They're always seeking and welcoming new members to join their waitlist for slips as they come available. Even if you're on the waitlist, you have access to members' slips that are not in use.
Lloyd Sotas, a long-time member of PYC comments, "I would think that PYC membership would describe our club as being in a very privileged location. We have an undeveloped extensive shoreline to explore and an incomparable lake with clear waters, good fishing and beautiful sets of cliffs. And most of all, we have good folks running the club that want to keep PYC running for the next generation."
For more information on PYC, visit: https://peachlandyachtclub.ca/
Allegra Smith-Herriott is the Associate Editor of Canadian Yachting. She is a Sport Media graduate from Ryerson University and is an active sailor and power boater on Georgian Bay. She can be reached at asmithherriot@kerrwil.com.