Equipment: Lifts for Larger Boats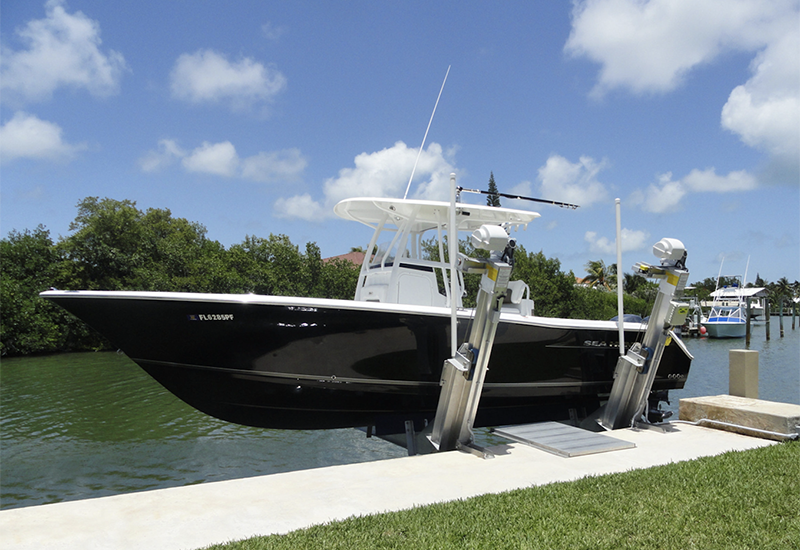 An elevator lift
Owners of larger cruisers, offshore performance and sportfish boats often don't realize that their investments can be stored out of the water just like a small center console. Golden Manufacturing offers two boat lift solutions that not only accommodate these heavy vessels, but also meet the needs of virtually any installation criteria.
the four-post lift accommodates 56,000 pounds
The Golden Four-Post Lift accommodates boats up to 56,000 lbs. Mounted onto wood, steel, concrete, fiberglass, or PVC piles, it can be configured to hoist almost any hull shape and propulsion combo. Heavy-duty adjustable guideposts gently position the vessel into place on the bunks. When ready, the owner simply presses the button, and the boat rises out of the water. For even heavier boats, the Golden Eight-Post lift will handle up to 240,000 lbs.
For owners who either can't have piles on their waterfront property or prefer a cleaner view, the Golden Elevator Lift installs onto seawalls, embankments, or concrete piers, as well as shoreline piles of virtually any material. With four tracks, it can accommodate up to 60,000 lbs. and is manufactured for the specific length and angle of travel of the location.
Yachts stored out of the water have cleaner hulls. This translates into improved fuel efficiency, increased range and greater top speed. Plus, maintenance is greatly reduced. Securely held above the water, structural or cosmetic damage due to wave-action and even sinking in the event of a power failure are eliminated.
Golden boat lifts are manufactured in the USA to ISO 9001:2015 standards using only fully welded 6061 T6 marine-grade aluminum with 300 series stainless steel fittings. Each unit provides 8,000 in-lb of torque to make heavy lifting effortless.
See the Golden Boatlifts site here.