Test Drive: The Savvy Navvy App
Nov 9, 2023
by Marc Robic
When our editor asked if I would look and use the Savvy Navvy (v2) navigation app and share my impressions, I was curious enough to do a little background research before accepting. From the onset, the reviews I read were not that great with many negative comments. But being in software most of my career, I know how new programs can have growing pains.
Three things stood out very clearly: 1- Most reviews were from some time ago and seemed caused mostly by a lack of knowing how to use some functions, 2- Reviews gave few details as to what was not right and 3- (more importantly to me) The Savvy Navvy team replied to each and everyone one, offering their direct contact information to walk the customers through any issues and functionalities.
To me, this spoke volumes about the people behind the product and as such, I felt they deserved investing time to review their latest version (v2). And I am glad I did!
Just to be clear, as always, I do not get paid by product providers to write and share my opinions. I remain true and honest about my experience. In the case of Savvy Navvy, I was provided an access code to the app so that I can use it. No strings or expectations attached.
The app
Available on both Apple and Google stores, Savvy Navvy is quick to find, load and set-up. That was very encouraging because the easier and more intuitive an application can be, the better the user experience.
I added the app to both my iPad and Android phone. You can add the app to multiple devices and access it using the same login information on all. This is great as my wife could also have it on her devices as a back-up.
When you first log in, you have three very easy screens to fill in to identify the type of boat(s) or water toy(s) you have, the dimensions and create your login info. And that's it, you are done.
How it works
Once logged in, the first thing I looked for were the available charts! Impressively, it had all the charts worldwide! From our home waters around Montreal, to our frequent bareboat chartering waters of the Caribbean to the Med and the Adriatic! They were all there in full detail and colour! That, in of itself, was a very pleasant surprise. It even had some of the more recent navigational markers and aids I knew about.
While testing the app using my android phone, it did use a lot of battery power, particularly while tracking. After tracking a 3-hour trip, my android phone battery was down to 34%. So, the ability to plug the device in while underway would be a good idea, albeit, not necessary depending on how long you're heading out.
I enjoyed the many available features and ease of use. Switching the screen view from 3D to 2D was nice. Using two fingers to manipulate the image from rotation, zoom in and out, etc. Also, the ability to switch screen modes from normal, satellite, wind data overlay, night time, etc. And to do so quickly.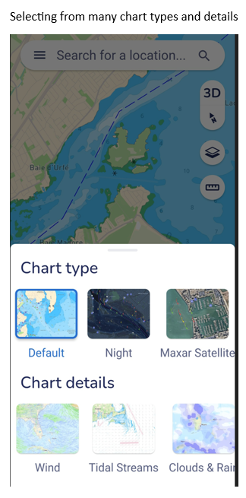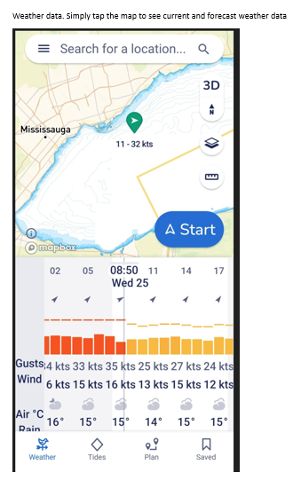 Another great function is the ability to overlay the weather for any given area by simply tapping on that area. Once the weather is highlighted, simply scroll up to see the forecast up to 10 days ahead. And, I must say it has pretty accurate.
From the ability to plan trips & courses, to accessing current worldwide charts and accurate weather data, the more I explore this application the more I like it.
There are many other features I look forward to learning about as I continue to use and explore Savvy Navvy.
You can learn more about the worldwide map coverage and the very affordable annual fees by category by visiting their website at www.savvy-navvy.com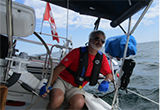 INFORMATION about the writer:
Marc is a member of the Canadian Power & Sail Squadron. He and his wife sail their Catalina 270, Aquaholic 3, out of the Ile-Perrot Yacht Club in Montreal, where Marc spent 16 years as Harbour Master. They are regular Caribbean bareboat yacht charterers. With over 40-years experience, Marc is also an avid onboard do-it-yourselfer.