25th Great Year of the Port Credit In-Water Boat Show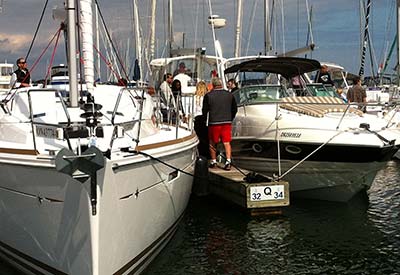 The Port Credit In-Water Boat Show celebrates its 25th year at the Port Credit Harbour Marina – September 18-20.  The only show of its kind on Lake Ontario, the Port Credit Boat Show is THE late season boat show to attend.
Besides over 100 new and used power and sailboats and the numerous land displays of marine accessories and services there are a few new events for this years show.
Port Credit Power and Sail Squadron will bring their award winning Virtual Trainer to this years show. This new equipment provides simulated events that a boater will encounter in real life, giving instructors the opportunity to enhance classroom and on line educational efforts. Come out and try the new Virtual Trainer for yourself.
The Port Credit Boat Show has something for everyone including new boaters. Not sure if boating is for you? Start your show visit at the Port Credit Power & Sail Squadron kiosk for new boaters. A great place to learn about how to get your license, boating courses, and boating information.
"Every show is different. We bring back the popular events such as the Speakers Tent, this year hosted by Power Boating Canada Magazine which will be showing exciting power boat videos between speakers! That's what keeps our show so popular." stated Katrina Lewis, show manager. 
The 25th show is shaping up to be another great Port Credit event and another great boat show with lots of boats, great exhibitors, great, new features… in fact it's an entire weekend of finding out why life is better with a boat.
The Port Credit Boat Show is held at the Port Credit Harbour Marina which is easily accessible by car, transit or boat. 
Show hours are Friday September 18 10AM-7PM; 
Saturday September 19 10AM – 6PM and 
Sunday September 20 10AM-5PM.