Boating History: Grew Boats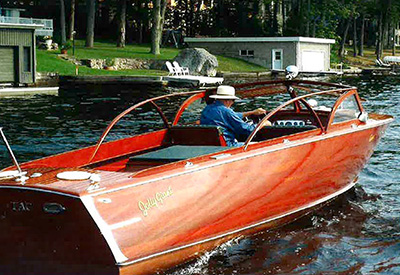 Feb 14, 2019
Arthur Grew (1885-1952) opened a boathouse on Lake Simcoe at Jackson's Point in 1907. Here he built canoes, rowboats and sailboats, some of which he hired out and others he would sell. Though relatively small, the business prospered for two decades until the Great Depression hit. In 1932, Toronto businessman Clarence A. Kemp (1893-1977) bought the business, but kept Grew and his employees on to build the boats as before, while he looked after financial matters.
In 1939, Kemp took over The Gidley Boat Company, located in Penetanguishene. Established in the 1890s by Henry E. Gidley (1864-1933), it had been a large and successful manufacturer of motor boats on Georgian Bay, but was left struggling after the Depression. Kemp maintained both plants, merging the businesses under the name of "Grew Boats Ltd." Before long the company was working on military contracts, producing a variety of vessels, including 38' Crash Boats and eight of the 112' Fairmile patrol boats. After the war, Grew Boats returned to the building smaller pleasure craft.
Kemp sold off the Penetang plant in 1950, along with the Grew name, to a group of investors from Toronto. The Jackson's Point shop, which produced 14'-16' wooden outboards, was split off as "The Bonnie Boat Company" and was soon sold to a different buyer. Under its new ownership, Grew Boats rode the post-war boom to great success, becoming one of Canada's largest boat builders. A major re-fit of the factory was completed in 1957, with a variety of stock wooden boats being manufactured, including both inboards and outboards, as well as large cruisers. Grew's did not design its own boats, however, but licensed models from American manufacturers.
Production shifted to fiberglass boats, and in the 1970s a new, larger factory was built near the original one. At this time, Grew's employed over 100 people. From the late 1970s, sales began to decline and the business eventually closed in 1989. The Grew brand was later resurrected, with boats being manufactured at a plant near Owen Sound, but this closed in 2011.
• Gerry Hatherly
Gerry Hatherley is a researcher and writer for the Archives at Muskoka Steamships and Discovery Centre. His main focus has been on the vintage boat builders of Muskoka. Gerry lives in Gravenhurst, ON, and has deep family roots in the region.
This article is the CYOB's second in a series of articles and photos. The series is nine at the moment but Gerry is working on another six or seven. Other articles in the series include: