Electrical Safety for Boaters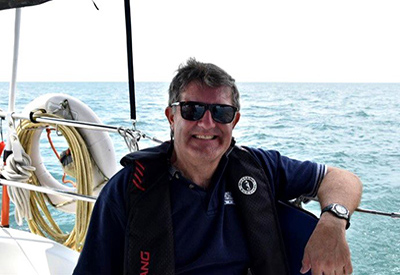 Feb 7, 2023
Peterborough Squadron, CPS-ECP
Speaker Series Event for February 16th, 2023, 7:00 – 8:30 p.m.
Join us, virtually, for an evening with electrical engineer and avid boater Gerry Thompson, from the Oakville Squadron of the Canadian Power and Sail Squadron. The event is free of charge, and all boaters and their friends and family are welcome to attend. The event will be broadcast live, using Go To Meeting technology. There will be a 45 minute presentation, with questions and discussion to follow.
Meet Gerry Thompson:
Gerry has been sailing on western Lake Ontario for 40 years and is a qualified electrical engineer. He is also a CPS Advance Pilot and a volunteer instructor for CPS's Boating 2/3 offered by a number of squadrons, including Oakville and Peterborough. On the water, Gerry crews and navigates on racing sailboats and enjoys weekend cruising on the Great Lakes.
What will you learn from this Talk?
Some knowledge of electricity is vitally important to the safe operation of a sail or powerboat. As you already know, electricity and water do not mix and there is high risk of electrocution, especially at dockside. A second safety concern is heat or fire from overheated cables and connections. These risks can be avoided by following safe practices that will be reviewed as part of this speaker series talk.
Gerry will provide valuable information on the following topics:
• Basics of maritime electricity and a review of Ohm's law;
• Electrocution risks and how to avoid them;
• Circuit overloading and how to prevent it; and,
• Safe installation and use of boat batteries
So please join us on February 16th at 7:00 p.m. to join in the fun. Click the link below to access the talk and join in a few minutes early just in case you encounter some technical difficulties.
Link to access the talk:
Speaker Series Session – Marine Electrical Safety
Feb 16, 2023, 6:30 – 9:00 PM
Please join my meeting from your computer, tablet or smartphone.
You can also dial in using your phone.

Access Code: 425-766-261
Canada: +1 (647) 497-9373
Get the app now and be ready when your first meeting starts.
Although it is not necessary to pre-register, you can let our moderator, Gina, know that you are coming by sending a quick email to sao-peterborough@cps-ecp.org
As always, you can learn more about Peterborough Squadron by going to our website:
www.peterboroughsafeboating.org
or by emailing:
info@peterboroughsafeboating.org