Galley Guys 43°15'N, 79°04'W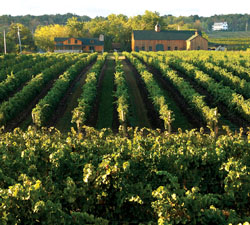 On a really clear day, from my homeport of the Port Credit Yacht Club, you can just see Niagara-on-the-Lake, one of the most popular cruising destinations in Canada. The trip to Niagara takes about an hour by car or about five hours under sail, most of the time.
Niagara-on-the-Lake, the site of the first meeting of the leaders of Upper Canada beckons boaters of all stripes to cruise and enjoy the best that Lake Ontario has to offer as a cruising destination. The Galleys Guys began their voyage optimistically wanting to do a story on the Niagara Peninsula but came to a quick realization that their eyes were bigger than their stomachs. An old Galley Guy expression: 'an hors d'oeuvre might serve better than an entrée.'
Our host for the journey was Rob McLaughlin and his good sailing partner and wife, Cathy. Rob, himself a great sailor, is the owner of South Shore Yachts, the local rigging shop, and a Bavaria and Contest Yacht dealer; but, more importantly, he is a life long resident of the Niagara region. 'Locals' always seem to have a unique perspective of their town: a great place to live but with a few navigational hazards to avoid – no reefs, no icebergs, just tourists.
Our first stop was The Stage Coach Family Restaurant on Queen Street for breakfast – located right in the heart of town. Our day was planned over bacon & eggs, enhanced a few times by hellos and introductions to neighbours and friends dropping in. It's a great breakfast and offers great value, but get there early before the crowds descend.
The Galley Guys wanted to see and taste some unique flavours that can't be found on the traditional routes taken by visitors to the area so after a second cup of coffee and some strategic planning by Rob & Cathy, we were off.
In preparation for our return sail later in the day, we stopped in the Village of Virgil at a local weekend fruit and vegetable market. The market is located on the bike path on Old Stone Road, just across from the Jackson Triggs Winery. Under the tent, the bounty of Niagara produce was on display and first name conversations with the local growers about upcoming events and children's activities were the constant, a far cry from the impersonal nature of my supermarket in the big city. On a table beside the back of a truck, I spied a vast array of homemade preserves. Unable to stop myself, I purchased some homemade organic ketchup to go with my addiction to scrambled eggs.
Next, we chose the wine route that took us out Concession Rd. #1 to Larkin Road, the home of Frogpond Farm Winery. The first person we met was the owner, Jens Gemmrich, eyeing a new sailboat that he had recently purchased. Before we could talk about his wines, we had to discuss how he was going to get his boat in the water. A meeting was scheduled to meet Rob at his shop later in the week.
The intriguing reason for choosing this winery was that it is the first organic winery in Canada to be certified by OCPP/Pro-Cert Canada Inc. (OC/PRO Canada) – Canada's foremost national certifier of organic food products. Jens and his wife Heike decided to go organic because they wanted their children to be able to play outside without being exposed to harmful chemicals. Their belief: working with nature benefits not only their family but all living organisms on earth. Instead of using chemicals fertilizers, synthetic fungicides and insecticides, Jens attracts insects to establish a naturally balanced environment in the vineyard and farm.
When I asked about fending off the annual barrage of starlings that enjoy feasting on maturing grapes, Jens pointed to his dog, an energetic Hungarian Vizla named Widu that provides a very holistic deterrent for the birds.
Frogpond's vintages of Rieslings, Cabernet Franc and Merlots suit the area very well and enjoy a VQA listing. For more on organic vineyards and Frogpond farms see the side bar. And yes…there are frogs in their pond.
It is a good uphill climb to get to the next new discovery, Olson Foods at Ravine. The Village of St. Davids is a great spot to sit outside and enjoy a fine café lunch while loading up on artisanal breads, fine cheeses and other gourmet delights. Many will recognize co-owner Anna Olson from her new TV show – Fresh – on Food Network Canada. During an lively, yet informative chat with Anna on the pairing and preparation of an ugly fruit that is grown locally call chinze, we noticed another notable shopper picking up a few items for her evening's feast; Ann Sperling, the Director of Winemaking and Viticulture at Southbrook Vineyards and her winemaker husband, Peter. (Coincidentally, I had the real pleasure of listening to Ann speaking a few weeks earlier about the extra efforts and lengths that Southbrook took to have and maintain an organic vineyard.)
On September 7, 2008, Southbrook announced that it has been granted OC/PRO Canada organic certification for its vineyard located in Niagara-on-the-Lake. This means that the estate-grown grapes about to be harvested for the 2008 vintage will be designated 'organic.' The 151-acre vineyard was designed to 'sit lightly on the land' according to owner Bill Redelmeier. The award-winning glass structure that houses the tasting room and hospitality areas created by Diamond+Schmitt Architects adds to the airiness and that 'close-to-nature' feeling that is Southbrook.
How did the Galley Guys get close to industry leaders like Bill and Ann from Southbrook? Well, let me tell you!
The Galley Guys were invited to participate in the annual Sail Escape's Gastronomic Tour of Niagara for an exceptional long weekend excursion hosted by leading Toronto food and wine critics James Chatto and David Lawrason. The group boarded three Hunter yachts at the Port Credit Harbour Marina and sailed to Port Dalhousie to experience three days of culinary and wine tasting heaven.
Highlights of day one included a very informative presentation and tasting of cheese sponsored by the Dairy Farmers of Ontario. Kathy Guidi, Dean of the Cheese Education Guild of Toronto lead us through four very select handcrafted artisan cheeses: Champfleury, Delice des Appalaches, Le Baluchon (my favourite) and Le Grand Chouffe. Along with the tasting came some very important tips on basic cheese handling, protection and storage of finely crafted cheeses. One comment that Kathy made really caused me to rethink my cheese buying practices. She said, "buy cheese like produce, eat fresh."
The tour then moved on to the beautiful rebuilt Oban Inn & Spa nestled right in the heart of Niagara-on-the-Lake for a wine presentation by David Lawrason, one of Canada's leading independent wine journalists and educators.
The dinner that followed at Restaurant Tony de Luca was sensational! Commencing with an incredible selection of in-house charcuterie, Michele Roux's peach chutney crisps, Quiet Acres' sweet corn chowder (best corn chowder ever), Lakeland's pheasant breast and an artisan cheese selection leading to a dark chocolate mousse. Each course was beautifully paired with a Niagara wine selected and presented by our experts James and David . My evening was even more memorable thanks to the insights and insider talk from my tablemates that included sommeliers, noted restaurant owners and chefs who were shaking their heads and lavishing praise for the quality of flavours and presentation of our meal.
The next day started with a wine tour to Hidden Bench Winery – runner-up for Canada's Winery of the Year in 2007. Then, we enjoyed an amazing lunch by chefs Patrick Engel and Isa Diloriio at the Good Earth Cooking School with wines by Malivoire, presented by winemaker Shiraz. Afterwards, Ed Madronich, owner of Flat Rock Cellars, took us on a spirited and passionate tour of his winery. This is when I fell in love with his 2007 Pinot Noir. (However, be sure to also try his Twisted Red for a very unique experience.)
On leaving Flat Rock, I engaged in conversation with another member of the tour (who noticed my Selection Malt Cruise hat that I had recently brought from Scotland). Joseph Cassidy, General Manager of Via Allegro Restorante in Toronto's west end, is one of the leading single malt experts not only in Canada, but also recognized internationally. He became my new best friend. I love my wine but I really love my malts. Incidentally, Via Allegro Ristorante has been named one of the top 10 malt whisky bars in the world.
The evening meal at the Hillebrand Winery Restaurant was four and a half hours of epicurean fantasy. The tour through the darkened winery following a footpath of candles lead down to the barrel room on the lower level. In this cavernous room lay a perfect table set for forty. Executive Chef Frank Dodd's mastery through six multi-level courses was superb. The serving staff of 10 was brilliant. Hildebrand's Aussie head winemaker, Daryl Brooker, introduced each wine pairing with his "down under" humour and a fine attention to detail. Hillebrand winemaker Jay Johnson created a stir with his unscheduled presentation of a 1998 Pinot Noir that was a showstopper. The finale was just too unbelievable not to be mentioned; four variations on a peach dessert. We tasted peach and yoghurt ice cream with a 2004 Showcase Riesling Icewine, mini peach pie with 2006 Trius Vidal Icewine, caramelized peaches on almond cake with 2005 Showcase Vidal Icewine (single barrel American oak) and finally brown sugar and peach jam Crème Br
ule with 2007 Cabernet Franc Icewine. It reminded me of one of my favourite Galley Guy expressions: Life is uncertain so eat dessert first!
And that is how we met some of the real superstars of the Canadian food and wine industry.
FAST FACTS
Book a mooring space well ahead of time. There are very limited spaces.
Take your bicycle or rent one: www.zoomleisure.com.
Research your trip: www.winesofontario.ca
Book a charter. Call Sail Escapes at 416-486-7774 or email sandy@slmevents.ca
Have a plan.
Don't try to do it all at once.
Eat, drink, be merry, and sail home safely!
By Greg Nicoll