The Industry Mourns The Passing of Erich Bruckmann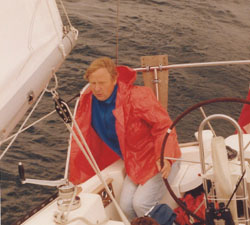 Canadian Yachting has learned that Canadian boat builder Erich Bruckmann passed away on October 28, 2011.
Erich was born in Dusseldorf Germany in 1930. He left Germany as a young man in 1956 to start a new life with his devoted wife and first son Peter. Within a year of arriving in Canada Erich began what would be a lifelong career as a boat builder. He was at the forefront of the yachting industry in the 1960's and 70's as one of the founding partners of C & C Yachts. Through hard work Erich was fortunate enough to be able to retire at an early age and spent many years enjoying life and traveling with Lisa, especially hiking in his favourite Austrian Alps.
Erich is survived by Lisa, his loving wife of 58 years, his children Peter(Diana), Caroline, Mark(Yveline), John(Kathy), and David(Alec), as well as his eight grandchildren Ryan, Danny, Kylie, Sydney, James, Camille, Andrew, Paula and great grandchild Addison.
The family extends special thanks to the nursing staff at Joseph Brant Memorial Hospital for their compassionate care. A Celebration of life will be held at Smith's Funeral Home, 1167 Guelph Line (one stoplight north of QEW), Burlington. 905-632-3333, on Saturday, November 5, 2011 at 10:30a.m. In lieu of flowers, donations may be made to The Carpenter Hospice, Burlington. www.smithsfh.com