The Wanda III is a Boat of Immense Significance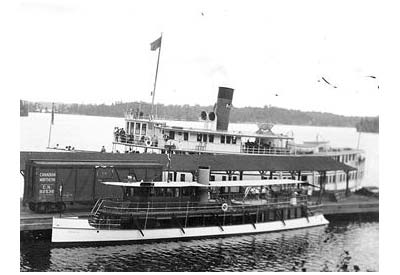 The once-proud vessel is now indefinitely moored alongside Muskoka Boat and Heritage Centre, the open water she longs to race through tantalizingly close and yet oh-so-far away. No longer quite shipshape, the Wanda III hides under a protective tarp. The plastic is for her own good, keeping the elements from damaging her wooden hull, but surely the elegant boat must feel aching embarrassment that in this year – her 100th anniversary – she should be hidden from view instead of gracefully parading across the lakes.
Photo by Ron Sclater
Wanda III is a boat of immense significance, a fact appreciated by the Muskoka Steamship and Historical Society, which restored the vessel several decades ago and employed her for a number of years as a cruise vessel. "She's the largest private steam yacht in Canada and one of the finest examples anywhere of the private steam yacht era. She's also a marvellous piece of machinery," explains volunteer Ron Sclater.
Randy Potts, who captained her for a number of years, wholeheartedly agrees. "It always registered with me the important history of this fine vessel," he says. "The larger steamships (Segwun and Wenonah II) curry much attention, however the private yacht of Timothy and Margaret Eaton – well now that is worthy of much attention!"
In her day, Wanda III certainly did attract much attention. When she was built in 1915 for the Margaret Eaton, the wife of Timothy Eaton, Canada's department-store king, Wanda III was the fastest boat on the Muskoka Lakes. Mrs. Eaton planned her that way – she wanted to go from the train in Gravenhurst to her Ravenscrag cottage, in two hours. 
 Undoubtedly, she was also paying homage to her late husband's wishes. Timothy Eaton had always wanted to have the fastest boat on the lakes. Indeed, Wanda II was built after the proud businessman lost a race in the original Wanda and vowed never to be bested again. When Wanda II burned in a boathouse fire on Aug. 6, 1914 and a replacement was needed, Mrs. Eaton made certain to make good on her husband's vow. The new yacht would outclass any vessel in Muskoka.
At the direction Mrs. Eaton, the Polson Iron Works fitted the new yacht with a triple-expansion engine, similar in design though smaller in scale to those being used on Royal Canadian Navy Minesweepers then chasing down German submarines in the Atlantic. These coal-fired steam engines were incredibly powerful, capable of sustained cruising at 20mph and bursts as high as 24mph, unparalleled speeds at the time. The craft's design complemented her engines in providing peerless performance. The Wanda III has a hull measuring 94 feet long but only 12 feet wide, and a draft of a mere six feet, enabling her to cut through the water like a torpedo. The technology that went into her design was, at the time, cutting edge.
Potts remembers well how her unique characteristics made her a handful to pilot. "Her long, slender hull and quick speed made for a few challenges when it came to ship handling," he recalls fondly. "Turning a boat around of this size or maneuvering for a dock or the locks at Port Carling meant that a bit of thought needed to be done in advance. I always likened Wanda III to a thoroughbred race horse. You need only a little bit of throttle to achieve results. Heavy hands on the steam throttle would only get you in to a mess very quickly."
Speed and hull shape weren't her only distinguishing characteristics, however. Wanda III was also beautifully outfitted with the finest materials money could buy, a yacht worthy of one of the richest families in Canada. She could carry 24 passengers in her elegant mahogany-and-brass salons, where the Eatons enjoyed afternoon tea on their way up the lakes. She cost $34,574.
 (Photo courtesy the Muskoka Steamship and Historical Society) This photo is from Barnesdale in the 1920s, providing a scale shot of the Wanda III alongside the steamship Sagamo. Though she was the largest yacht on the lakes, she was dwarfed by the passenger steamships of the era.
Wanda III became an integral part of Mrs. Eaton's cottage lifestyle. Visiting musicians would perform on the after deck in the early evening, and many afternoons were spent hosting guests from neighboring cottages aboard for tea-time cruises (a strict Methodist, no drinking or smoking would be permitted aboard). Mrs. Eaton provided the yacht's captain and engineer with cottages near Windermere so they could be nearby whenever the whim came over her for an excursion.
Despite the good times, the Wanda III suddenly fell out of favour with the Eatons and in 1927 was quickly sold off. What happened?
It was a tragic story. In 1927, a desperate call reached the Eatons at Kawandag. A young girl at Ravenscrag had taken ill with severe appendicitis. She was in desperate straits and had to get medical attention as soon as possible. The Wanda III was her best hope. There were faster craft available – motorboats had now appeared on the Muskoka Lakes, and the Eaton family alone owned several of the most powerful – but in the young girl's condition comfort was as important as speed lest the appendix burst.
The Wanda III was ordered to raise steam and race the child to Bracebridge Hospital as quickly as possible. Even at best speed the trip took five or six hours, and sadly the girl died en route. Mrs. Eaton was shattered by the news. Whereas once she cherished the family yacht now she could hardly bear to look at her, and she never forgave it. Hoping to distance herself from the painful memory, she sold the Wanda III to Charles Orlando Shaw, the owner of the luxurious Bigwin Inn.
In 1930, the yacht was taken overland to Lake of Bays and became the hotel launch for Bigwin. For 15 years, she took wealthy guests on excursions around the lake but in 1944 the Wanda III's passenger certificate was revoked. Now without purpose, she languished at the docks at Bigwin for a number of seasons.
In 1948, Wanda III was sold to Cameron Peck, who deserves credit for saving her from an early demise. Peck cared strongly about the loss of early marine history in the area and set about saving of much of it as he could. After purchasing the boat to prevent it being scuttled, he did what he could to preserve and restore her.
 Photo courtesy the Muskoka Steamship and Historical Society) The Wanda III as she appeared when she was owned by the Eaton family, playing host to high teas and musical recitals, while sailing passengers around the lakes.
The yacht subsequently changed hands several times, and for most of the next 40 years was neglected. The Wanda III eventually ended in the hands of Sandy Thompson, an engineer who managed to keep the ship's venerable machinery operating successfully. The task was bigger than one man, however, and so in 1993 Thompson donated her to the Muskoka Steamship and Historical Society.
The MSHS was which determined to restore their newest acquisition to its former grandeur. Frederick Eaton, the great-grandson of Sir Timothy Eaton, was named the honourary chairperson of the fundraising campaign in 1993 which raised $650,000. By 1996, after many years of decreptitude, the Wanda III was restored and recommissioned in a ceremony presided over by Prime Minister Jean Chretien. It was a proud moment. Once again, she was one of the grand old ladies of the lakes.
In the years that followed, Wanda III joined the Segwun and Wenonah II in carrying countless passengers on memorable sightseeing cruises. Summers were busy with parties for weddings and anniversaries, dinners, cocktail parties and business-reception dinners.
Age eventually caught up the venerable boat again. In August 2000 the boiler, then 85 years old, sprung a leak through one of the bolts which held the angle iron for the floor. Upon further inspection it was discovered that there were likely other cracks in the boiler. Rather than repair it, a new boiler, costing $210,000, was installed to extend her life into a new century, though this replacement did not have the capacity of the old boiler. Further restoration came in 2004 when the Society replaced her entire hull at total cost of $200,000.
Sadly, however, a decade later the historic yacht is once again hardly in shipshape. "Wanda III was withdrawn from passenger service a number of years ago due to regulations and needs significant restoration work.
"The problem is Wanda III needs a boathouse to keep her out of the elements. Sun, snow and rain isn't good for wood varnish," explains Sclater, who served aboard her for a number of years in the late 1990s and early 2000s, including a memorable stint as Captain.
There were plans to build a private boathouse to store the Wanda III and other vintage vessels the Society was hoping to acquire. This boathouse was intended to be part of the original Muskoka Wharf project and was to be attached to the Muskoka Boat and Heritage Centre. Unfortunately, the idea fell through when the Northern Ontario Heritage Fund Corporation reneged on $2.5 million in promised funding as a result of Muskoka being taken out of Northern Ontario.
As a stopgap, the Society invested in a shrink-wrap cover at a cost of $40,000 which, Sclater explains, will allow work to be done while still protecting the vessel from the elements.
"In today's world of dollars and cents, her math did not add up," says Potts. Quite expensive to run and quite expensive to maintain, Wanda III remains an anachronism in today's world. A symbol of Canada's wealthiest merchant family and a symbol of an era, and a shining example of Canada's shipbuilding history and Polson Iron Works workmanship, it's important that she be preserved if only for future generations to understand what yachts of this stature were like."
The Muskoka Steamship and Historical Society is committed to doing just that. "The Society's Board of Directors recognizes the importance of her restoration," explains John Miller, General Manager of Muskoka Steamships, "and has begun steps to return her to her former glory."
Hopefully one day soon this majestic and historically significant yacht will again be seen sailing gracefully across the Muskoka lakes, allowing our imaginations to cast back to that elegant era of a century past when Mrs. Eaton hosted high teas and concert recitals afloat.
You can wish the Wanda III a happy centennial by joining the Friends of the Wanda III (contact Ron Sclater at rsclater@csolve.net) and keep abreast of plans to secure her future.