Nova Scotia Cousins Return Home After Maiden Voyage on Hand-built Schooner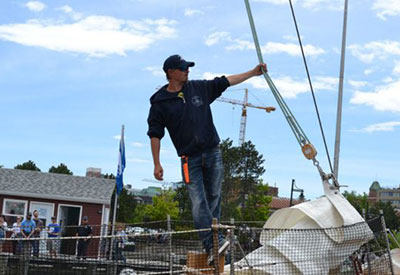 June 19, 2016
Evan and Nick Densmore started working on their ship, the Katie Belle, about five years ago in Stewiacke.
Sailing on a schooner he built with his cousin was a dream for Evan Densmore. But it wasn't without its challenges.
"We had some rough weather around Sandy Hook," he recalled. "It took us two days to go about 30 miles."
Photo 1:  Nick Densmore on the Katie Belle as the crew prepares to dock.
Evan and Nick Densmore started working on their ship about five years ago and its gone a long way since then. From its humble beginnings in Stewiacke, the Katie Belle just finished a three-month voyage along the Eastern Seaboard, stopping in places such as Glouchester, New York and Charleston, and returning to Nova Scotia on Saturday.
As they docked on the Halifax Waterfront, the Densmores were greeted by family, friends and community members.
"Most of these people are from my own hometown – known me ever since I was a kid and followed the project the whole way along," said Evan.
For Evan, the journey's highlights included crossing the Gulf of Maine.
"The first time you take your boat into another country, it's kind of a major stepping stone."
Photo 2: Dozens of people showed up to the Halifax Waterfront to welcome the Katie Belle home.
Evan said many of their crew, like Chester Gourley, had very little previous experience at sea.
"I love adventure," said Gourley, who has known both Evan and Nick for a long time. "I would have helped any young guy that was doing this."
Now that he's tried it, Gourley said he has "caught the bug" and will be sailing for life.
"There's no doubt in it."
For Gourley, the biggest part of being involved with the Katie Belle was "reversing the trend" of negativity.
"You wouldn't believe the amount of people who thought (Evan and Nick) were crazy," he said, adding that he hopes other people see such a large project can be successful.
"Just put your head down and do it."
Read about the building of the Katie Belle at the Cameron Shipyards here.
Read the full story of the Katie Belle homecoming here.
Story and photos: Rebecca Dingwell www.metronews.ca