North Sails Atlantic Yacht Shop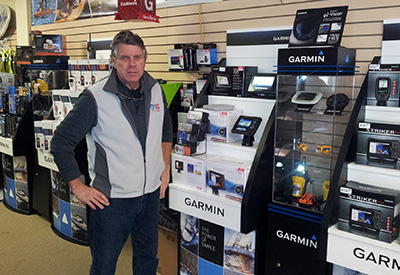 Dec 21, 2016
On Halifax's the first snowy day of the year I had a chance to visit North Sails Yacht Shop and spoke with long time company principles Sandy MacMillan and Angus Buchanan. They were both keen to show off the store's greatly expanded inventory of Garmin Electronics, which represent a new product category for the store. Angus pointed out that the Garmin line was a logical extension of the store's recent expansion into watercraft and was bringing a new powerboat and outdoors cliental into the store.
This is evidenced by their plans to attend 3 outdoor shows in the coming year in addition to the Moncton Boat Show (Mar. 31-Apr.2)and their usual large display at the Halifax International Boat Show (Feb. 9-12). Angus was also quick to give credit for the recent success of the company's revamped web site, as well as many of the stores improvements, to store manager Heather Douglas. Heather has been with North full time for the last 5 years having previously worked there summers while in college.
The Halifax location began as a retail outlet for North's Lunenburg sail loft, serving as a pick-up/delivery location and rigging shop. Retail items included sailboat hardware and clothing. Things really began to change when the company purchased the Lunenburg Yacht Shop in 2006. This led to a major expansion of the Halifax location, both in size and variety of inventory. In 2011 the decision was made to consolidate operations in Halifax. Today the Yacht Shop has 6,000 square feet of retail space and a wider variety of merchandise than ever.
Angus said the best way to describe the changes in recent years is an evolution from a purely sail oriented yacht shop to a more broadly based water sports centre. This does not mean any decline in the sail side of the business, a full rigging shop and drop off for the sail loft are still important and continue to bring customers to the store, as North Sails endeavours to provide one-stop shopping.
A little history about North Sails Lunenburg loft. Built in 1901 by Thomas Hamm, we believe this building is the oldest continuously operated sail loft in North America. The loft floor on these premises has been used to make sails for ships, fishing schooners, racing and cruising yachts, and small sailing craft for over one hundred years. The building is a three story 60' x 40' structure and is the home of a unique sailmaker: the label is R.B.Stevens& Sons Co. Ltd. and since it was established has made sails for the original Bluenose (1938) and Bluenose II (1986, 1991, and 2006)! The connection between R.B.Stevens& Sons Co. Ltd. (established 1910) and North Sails Atlantic Ltd. began in 1985; the companies were combined in a unique blend of tradition and technology.
The crew from North Sails Atlantic will be at the Halifax International Boat Show, February 2- 12 at the Halifax Exhibition Centre.
First 3 Photo Credits: G. Cairns