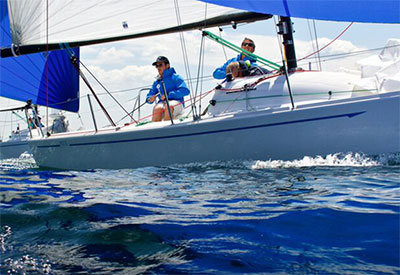 The Oakville Club team skippered by Ed Thompson wins the first ever 1D Cup hosted by National One Design Sailing Academy.  Ed and his crew of Alison Thompson, Cam Macrae, Chris Dorrington, and Wilson Reading sailed a great event to narrowly come away with the win. 
Day 1
Spectacular conditions on day 1 saw teams pushing the limits as boats surfed large waves downwind.  The race committee lead by PRO Kim Moffat ran the planned 5 races for the day which left crews exhausted by days end.  There were some spectacular thrills and spills on the day which left crews with large smiles upon reaching the dock.  Team Ashbridges Bay Yacht Club skippered by Mike Hren sailed well in the windy conditions to hold a 2 point lead over Oakville Club after five races.  Hats go off to the Barrie Yacht Club team who after seasickness hit members of the crew completed the day with only 3 crew members as opposed to 5 which all the other teams had on board. For this the Barrie team was awarded with the "Blushing White Tiger" trophy for their efforts.
Day 2
The conditions were lighter for day 2 of the event with the winds moderating and sea state subsiding making for tactical racing.  Bronte Harbour Yacht Club had a superb day in the lighter breeze coming away from the day with a 1,1,2.  It was hard fought day by all the teams as the teams traded places throughout the day.  In the end the Oakville Club team sailed well enough to come away with the win and the first place prize of $1,000 in sails from North Sails donated to the winning clubs youth sailing program.  As Oakville Club doesn't have a youth program, Ed and crew donated the first place prize to youth sailors Gray Snyder & crew Jack Porter who sailed with team OYS during the event and are on the BHYC race team.  The funds will be used to buy new 420 sails to help this team's 420 Nationals efforts.
Racing was held September 26th and 27th in Oakville Ontario with a 5 races sailed on day 1 and 3 races on day 2 for a total of 8 races sailed.  Full results and pictures from the event can be found on National One Design Sailing Academy's website www.1dsailing.com.