New knots for a new world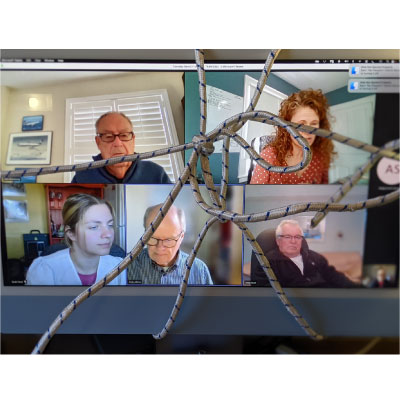 As a boater, I am confident you get the perennial query, 'tie some knots for me.'
By John Morris
The Zoom Knot – a variation of the traditional Bull Sheet Bend
As a boater, I am confident you get the perennial query, 'tie some knots for me.' Kids of all ages, beautiful people in bars and even other seasoned boaters, venerate the boating person who can quickly zip a bowline with one hand or flip a series of half hitches onto a cleat.
But times change and today, in this wacky environment where everything is constantly changing, we have assembled a compendium of important new knots to enhance your skill portfolio.
The Zoom Knot. After two years of connecting via the screen, this knot helps restore the work/life balance via a few simple line manipulations. Once in place, that nagging boss and the petulant controller will quickly understand that it's the boating season, so lower your expectations. Related: the Why Knot; The Knot Me Thanks; and the I'm Definitely Knot Doing This Any More hitch.
The Mask Splice. Surprisingly, those boxes of masks can be repurposed for boating. By linking the masks together, you can both dress your boat and hang light laundry by chaining the now-unused masks together. How many do you have? Hundreds? No problem, they are fun to look at and we boaters can keep an inordinate amount of waste out of the system. Not quite as engaging as semaphore flags, these masks provide an airy salute on an otherwise dreary day.
Half-Wit Hitch. During the lockdown Canadians' tolerance has been strained. Road rage, social media lambast, and name-calling have taken turns north. Fortunately, for boaters whose cool demeanour remains intact, there is a much simpler outlet for angst. By using the traditional half hitch around the neck…oops, make that arm… of a confronting idiot, you can relieve the tension while getting them to shut up. Simply wrap the line around the appendage, flip it through the loop and tug. Stays secure and, remarkably, everything quiets down.
Equally suited to securing your boat to a bollard or fastening your hot tub to a police barricade, The Truckers' Convoy Bend is a simple yet infuriating knot. Once in place, it will stay tied up for much longer than you might expect and occasionally requires intervention to disengage. See also, Flag Etiquette: Canadian (inverted), Confederate and also Terry Fox.
Since the legalization of cannabis a couple of years ago, the Reefer Knot soared to importance as a simple means to keep a bong secure in the aft locker. Since then, this has almost entirely changed usages. When the skipper inappropriately decides a couple of tokes won't hurt anything, the Reefer Knot can be used to secure the driver down below while someone sober takes the wheel.
The Inflationary Slip Knot. Simply put, this clever knot allows a loop to expand easily to accommodate the width of a skipper's wallet. Unfortunately, it can occasionally tighten unexpectedly when the government introduces a luxury tax or fuel prices soar. Use with caution.