The Galley Guys Have Been Busssssssy…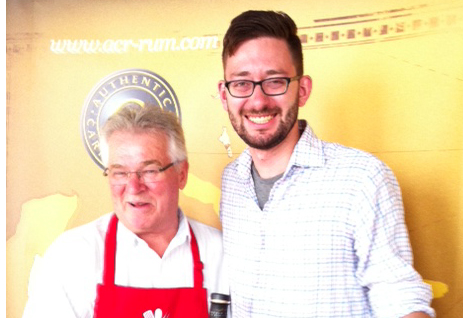 …well one of them has anyway.
This Galley Guy gets Schooled on Fine Rums
Canadian Yachting's Galley Guy Greg Nicoll with Authentic Caribbean Rum Ambassador Joe Howell at The Spoke Club in Toronto for a seminar on fine rums of the Caribbean. Joe did an excellent presenting 16 different rums, their history and their diversity. There are many different ways of fine tuning a rum's flavour, fermenting, distilling, aging and blending to name a few. Joe is also the head bartender at the Spoke Club.
Meanwhile on the East Coast……
Chester Race Week Offers Greg Nicoll Valuable Shucking Experience
Galley Guys: Greg Nicoll and Jim Grove show off fresh Prince Edward Island oysters during 2015 Chester Race Week. For Toronto based Greg it was his first time shucking oysters.
The oysters were served with a mignonette sauce : 1 tablespoon of coarsely ground white pepper, ½ cup of red wine vinegar, 2 tablespoons of finely chopped shallots , salt to taste.