Gilbert Motor Boat Company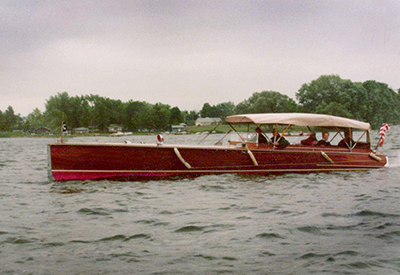 Mar 14, 2019
Nelson Gilbert (1854-1921) began building canoes in Brockville in the 1890s, a time when the sport was very popular. In 1904 he put up a shop and boathouse on the waterfront at 15 Jessie St., where he produced canoes, sailboats and rowboats, with plans to start building motorboats as well. Built of cedar or mahogany, Gilbert's launches were high-quality vessels ranging from 20-35 feet in length. The company also produced its own brass hardware and fittings.
Gilbert's boats sold well in both Canada and the U.S., and by 1914 the business employed 20 men. "Charmalee," a 35' displacement launch built in 1914, is a surviving example of Gilbert's early work.
Following Nelson Gilbert's death in 1921 and a fire that destroyed the shop in 1923, his son Fred (1877-1945) kept the business going as the "Fred Gilbert Boat Works." Production continued with the emphasis shifting to runabouts, racing outboards and larger cruisers. After Fred's death, the business was taken over by Fred Jr., but production of new boats stopped in 1949. Since then, Gilbert's has remained in operation as a marina, with the fourth generation of Gilberts offering a variety of boating services.
• Gerry Hatherley
Gerry Hatherley is a researcher and writer for the Archives at Muskoka Steamships and Discovery Centre. His main focus has been on the vintage boat builders of Muskoka. Gerry lives in Gravenhurst, ON, and has deep family roots in the region.
This article is the CYOB's third in a series of articles and photos. The series is nine at the moment but Gerry is working on another six or seven. Other articles include: