Boating History: Gidley Boats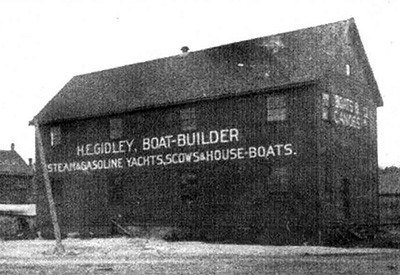 Apr 11, 2019
The Gidley shop in 1903
By 1895, Henry Gidley (1864-1933) had established his boat building business on the Penetanguishene waterfront. At first named the Georgian Bay Boat & Canoe Company, it soon became known as H.E. Gidley & Co., and then by 1914 the Gidley Boat Company. It produced a wide variety of vessels, including canoes, skiffs, sailboats, motorized launches, and houseboats. Gidley also built a number of boats in the 100 ft range, many for government service.
In its 1906 catalogue, Gidley & Co. was already claiming to be the largest builder of pleasure boats in Canada. Making stock models from standardized parts based on templates, and using an early form of line production, Gidley's was able to build 200-00 boats a year! Still, they maintained a high standard of quality, which was credited to their "perfect system" of manufacturing.
A leader in gasoline-powered displacement launches, in 1922 Gidley struck a deal with Ford to supply them with Model T engines. These were used in a 24 ft. mahogany runabout with a partial V-bottom hull known as the "Gidley-Ford." (A 20 ft cedar utility model with the same engine was also available.) This boat was only produced for four years, though, probably due to the rapid improvements in engine designs at this time. Another notable Gidley boat from this era was the 32 ft launch built for Orville Wright in 1929, named the Kittyhawk. It still survives today.
The Gidley Boat Co. prospered during the boom years of the 1920s, but like most other builders was hard-pressed to make sales during the Depression. Still, it managed to survive until 1939, when Clarence Kemp, a Toronto businessman who had already acquired Grew Boats of Jackson's Point, bought the struggling company. Kemp merged the two companies under the Grew name, but the Penetang boatworks – which had expanded significantly over the years – continued as the main factory for the new company and was still referred to as the Gidley Plant.
-Gerry Hatherley
Gerry Hatherley is a researcher and writer for the Archives at Muskoka Steamships and Discovery Centre. His main focus has been on the vintage boat builders of Muskoka. Gerry lives in Gravenhurst, ON, and has deep family roots in the region.
This article is the CYOB's fourth in a series of articles and photos. The series is nine at the moment but Gerry is working on another six or seven. Other articles in the series include: