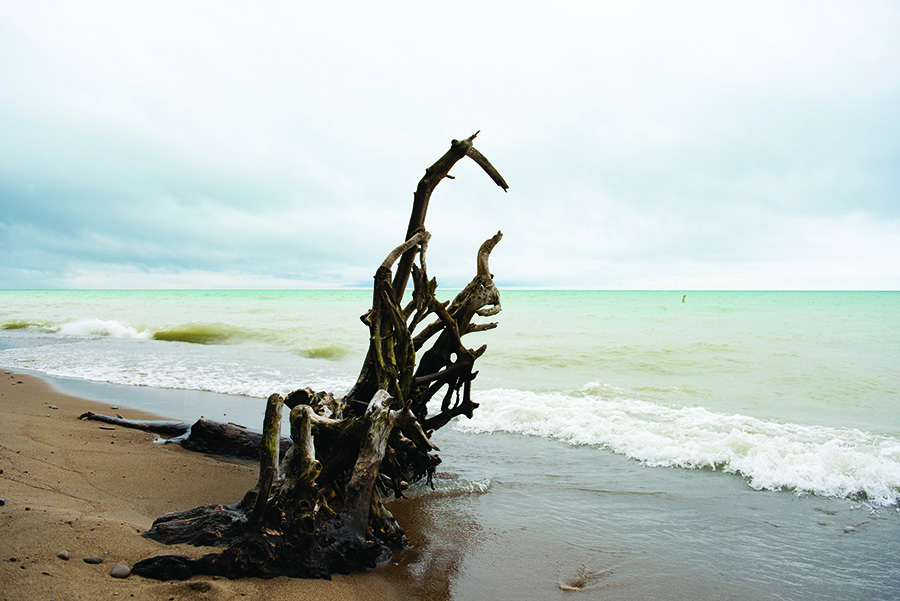 Lake Huron's lee shore, an area including Port Franks, Bayfield and Grand Bend, stretching roughly thirty nautical miles along Ontario's west coast, has long been synonymous with summer fun.

By Mark Stevens
"Boaters who visit Lake Huron's lee shore will be delighted by the many attractions and activities they'll discover here."
Lake Huron's lee shore, an area including Port Franks, Bayfield and Grand Bend, stretching roughly thirty nautical miles along Ontario's west coast, has long been synonymous with summer fun.
It's always been one of my favourite Ontario destinations.
As a youngster I camped at the Pinery Provincial Park just outside Grand Bend. As a teenager I attended summer camps near Bayfield.
Years later my wife and I camped at the Pinery with our own kids; sometimes we'd book a summer cottage here.
These shores host a cornucopia of activities and attractions – from live theatre to wine-tasting, from golf to history, from exhilarating wave-jumping to some of the best sunsets I've ever seen – but it was only recently that I boarded a vessel for a nautical perspective on these cruising grounds.
That's when I gained considerable respect for conditions here: not always for the faint of heart.
Winds were blowing out of the west early on the morning of that day we first cast off. We were sailing with friends who kept their sailboat (appropriately a Bayfield) at Village of Bayfield Marina near the mouth of the Bayfield River.
Clouds hovered over the horizon even as waves assaulted the river's mouth. Rain soon followed but we were determined. With well-deserved faith in the skills of our skipper and crew, my wife and I chose to challenge the elements.
The hull nudging the bottom in wave troughs as we cleared the narrow channel leading into the lake itself, I quickly learned respect for local challenges to navigation.
We bounced around under sail for roughly an hour – foresail the size of a handkerchief, main double-reefed – before crawling back to the harbour.
On the upside, two days later we left the same marina in a big Bayliner and encountered sun-sparkling calm waters, a cerulean expanse that dramatically demonstrated how apt another nickname for this area was: The Bluewater Coast.
Dock your boat at the nearby marina then catch some rays at one of Canada's best beaches.
Back on land, I reflected on my experiences here: recent and not so recent.
Lee shore? Yes.
Boaters' paradise? Indubitably.
FAR FROM THE MADDING CROWD
If you're making for points north as you follow the coast from places like Sarnia or even further south, you've got at least three options if you want to put in for the night. Conversely, these are also great places to keep your boat for the season.
One of my favourite waypoints is far from the madding crowd, a secret little cove called Port Franks. Not much here, admittedly (though you can get pizza down the road from the marina itself), but that's part of the appeal.
Grand Bend concert.
It's just south of a huge expanse of beach that comprises one boundary of Pinery Provincial Park. From here you can share incredible beach walks or head a bit further north and discover one of the many trails crisscrossing the park itself.
Though they currently offer only seasonal berths (and availability is often dependent on lake levels), if you're looking for a great summer getaway, Port Franks offers the ultimate in charm and seclusion.
CAPTAIN HENRY'S HARBOUR
First surveyed by Captain Henry Bayfield, this harbour (and adjacent town) pays tribute to that nautical luminary and offers a perfect overnight (or seasonal) berth.
Welcome to the Village of Bayfield Marina, hugging the shore of the Bayfield River, a serpentine waterway meandering through an emerald valley. This haven is almost an annual waypoint for my friends Tim and Denise Asseltine, who often stop here to break up their summer sailing pilgrimage from Windsor to the North Channel.
"Great spot," says Asseltine. "Lots of cool shops and some great places to eat."
Overnight at the marina here (they offer fourteen transient slips) and sign out a complimentary kayak, canoe, paddleboard or bike.
Rush down the staircase to the Bayfield beach from Pioneer Park and you just might catch a second sunset.
Hop on the latter and make your way up the hill toward the village itself to discover restaurants and shops housed in historic buildings scattered along Main Street as they lounge in the shade of towering oaks and maples.
Visit the Village Book Shop for respite from your chart-reading or stop at Pink Flamingo for gourmet ice cream.
Get a dose of culture at Marten Arts Gallery then book a romantic dinner at the Little Inn at Bayfield where flower baskets decorated the two-story wraparound porch guarding the entrance to this circa 1850's former stagecoach stop.
Looking for a more casual fare?
Check out the ambiance of the Black Dog Pub down the street, a watering hole that boasts twenty different draft beers. But save some energy for your next waypoint.
THE BIG TURN
When sand dunes long ago blocked the access of the Ausable River to the lake itself, the river, not to be dissuaded, took a sharp turn to port and continued south.
This big turn came to be called by a different name. Welcome to Grand Bend.
Stop at Bayfield's Village Bookshop to pick up that perfect beach read.
Just across Parkhill Creek, where the marina itself is located, you'll discover a beach consistently rated among Canada's top ten.
A children's playground boasting a whimsical splash pad lounges beside a pavilion boasting huge murals hard by a series of beach volleyball pitches.
'Perfect place to bond with Huron's lee shore.
Berth at the Blue Flag Grand Bend Marina with thirty-five transient slips and you might be serenaded by the sound of music emanating from the Rotary Community Stage, where, come summer, boaters and landlubbers alike plunk down lawn chairs on the sand for regular and frequent evenings concerts.
And that's just one appeal of this irresistible coast.
Go ashore on Huron's lee shore and you might never get back on the boat.
GOING ASHORE
The town of Grand Bend revolves around a main street rising gently from those amber sands, populated by the usual suspects of t-shirt shops, a smattering of bars and a few more appealing retail establishments.
Lunch at Midori.
"Great places to eat and drink too," says marina manager and harbour master Josh Majerle. Consider Midori Sushi Bar for lunch, dine with the locals at the Lake Hound, and/or sip a cool one almost lakeside at the Growling Gator.
Then further explore this delightful waypoint. Book a tour and wine sampling at the Dark Horse Estate Winery just outside town. Take in live theatre at the Huron County Playhouse right next door.
A few kilometres outside Grand Bend, you can rent a canoe or trudge the trails at Pinery Provincial Park, or maybe book a tee-time at Oakwood Resort just north of town.
If you've berthed at Bayfield, while away an afternoon on the patio at the Albion Hotel, take a self-guided historic walk, indulge in some retail therapy. Maybe check out the offerings served up at Bayfield Brewing Company (pick up a brew with a sailor-friendly name like "Navigating Lieutenant" or "Captain Ronny" to take back to your boat – assuming you can tear yourself away from the attractions ashore). Check out the offerings of Captain Harry's Bar and Grill, hard by the unmistakable carving of Captain Bayfield himself. Then prep yourself for sunset.
LAKE HURON'S SUNSET SHORE
It's early evening on the last day of our visit to Huron's lee shore and my wife and I are standing high above the lake itself at Pioneer Park in Bayfield.
Wine Tasting Grand Bend.
Day flees to the west as omnipresent westerlies whip waves into whitecaps and send them on a collision course with the shore below, even as the falling sun glows incandescent orange then fire-engine-red, before dipping below the horizon.
Now we race down the wooden staircase to a smallish beach for "sunset, the sequel", a fiery replay of this spectacle thanks to the unique topography of the shore.
According to local legend, National Geographic magazine once rated the sunsets from here among the world's top ten.
While I've never been able to substantiate this claim, one thing's for sure, tonight we've got a front-row view of the best sunset I've ever seen.
Except for last night, or maybe the night before … or the night before that.
Grand Bend.
So much for Lake Huron's lee shore, I think, turning to my wife and speaking over the tympani roll of the surf.
"Welcome," I say. "Welcome to the sunset shore."
SHIP'S LOG
For a complete and definitive boaters' guide to this area, from navigation notes to marina information, pick up your copy of The Ports Guide to Georgian Bay, The North Channel & Lake Huron. (www.portsbooks.com/georgian-bay-the-north-channel-lake-huron/ )
For more information on attractions on shore check out:
and
www.ontbluecoast.com
A view of Huron's lee shorefrom the beach at Bayfield.
Photographer Sharon Matthews-Stevens and writer Mark Stevens comprise a multiple-award-winning team who have been contributing to Canadian Yachting for more than twenty years. They have sailed much of the Caribbean and the Mediterranean but they have a soft spot for Canadian destinations. While they keep their own boat – a Catalina 320 – on Lake Ontario, Lake Huron's lee shore is one of their favourite places to visit.
Originally Published in the May 2023 issue of Canadian Yachting magazine.